1st Class – 2nd Hand
Our second-hand machines can be used straight away and our service ensures they remain as usable for a long time afterwards.
Individual service packages. If requested, we can organise transport to where you are.
Best quality: well-maintained machines from our own rental park
Wide selection: construction machines, construction equipment and vehicles from leading manufacturers
Transport service: worldwide deliveries incl. customs handling
After sale: rapid acquisition of spares for your machines - worldwide
HKL gives you the opportunity to buy top-condition, quality-tested, useable second-hand machines directly from the HKL RENTAL PARK.
Our second-hand machines for purchase are from our own stocks. We constantly maintain, service and inspect them. Customers will find a wide selection in all the usual machine categories.
We have three large second-hand machine centres in Falkenhagen (north), Dortmund (west) and Kempten (south) with exhibitions being constantly held. We also rapidly and efficiently coordinate all logistics operations for you, such as organising transport and handling exports into any country in the world.
HKL BAUMASCHINEN is the largest construction machinery rental company in Germany, Austria and Poland.
Its range includes construction machinery, construction equipment, container & trailer systems and vehicles. The family-run concern achieves a turnover of over EUR 330 million. HKL's rental park, construction shop and service supply offer has turned it into the leading supplier for construction, the trades, industry and local authorities. 140 centres in Germany and Austria, over 1,200 employees and a fleet of 80,000 units for hire ensure closeness to customers and a fast on-site service. HKL BAUMASCHINEN has additional branches in Poland.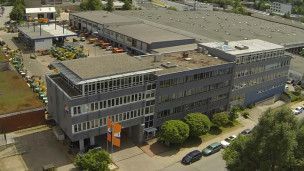 The machines in the HKL MIETPARK (rental park) exclusively represent quality machines of well-known manufacturers. The decisive factors in their selection is a long-time positive experience with the product, quality and reliability. To satisfy each and every machine requirement at any locality, HKL MIETPARK will again this year be stocked up and supplemented with technical innovations. The capital sum invested in new machines alone in 2016 is 80 million euros, They include compact excavators, mini-excavators, wheel loaders, rollers, compressors, transporters, generators, telescopic machines and container & trailer systems.
In many regions, HKL also provides for sale an extensive range of new and used construction machines from leading manufacturers for building construction and civil engineering, road building, the garden and landscaping trade and local authorities.
HKL continually invests in extending its network of branches. New centres were opened in Wolfsburg, Bergisch-Gladbach and Recklinghausen in 2016.
HKL provides apprenticeship training in both commercial and technical fields. As No. 1 on the market, the company provides its employees with secure jobs offering best-possible future prospects and considerable scope for advancement. We mainly recruit our senior management from within the organisation.
HKL BAUSHOPs have a large product range on hand which is being constantly extended. This is where the customer can find construction equipment, tools, portable machines and workwear for every need. The assortment provided in the construction shop can also be ordered under www.hkl-baushop.de